This guard or "alpha" doe was caught by surprise thanks to soft snow and a favorable wind. I had time to get a couple of pictures snapped before she realized what was going on. My big surprise came when five or six other deer bounded from the hemlocks just to her rear. Had I not been taking pictures and payed closer attention I might have gotten my buck. Still-hunting requires intense observation!
I watched a buck make this rub on a 8-inch quaking aspen tree while I was archery hunting. He was reacting to grunts and rattles that I was doing but wouldn't come closer than sixty yards. I eventually got the buck---see the pictures and funny story at my page: "bucks2".
Rustic log cabins still exist in some of Pennsylvania's parks. I stayed in this one at World's End State Park while Bowhunting in Sullivan County woods. The rental rate on these cabins is very reasonable, but bookings must be done at least a year in advance. For information on outdoor recreation in Pennsylvania visit:PA. Dept. Conservation And Natural Resources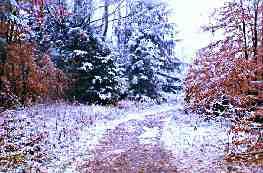 There are many gifts in nature. A fresh snow to greet you as you leave your cabin in pursuit of whitetails is just one of the things to elicit a thankful attitude.
Bear hunting in Maine in July has its drawbacks. Heat and insects make for challenging conditions. A good alternate adventure is to fish in the morning and hunt the bears in the evening. On this day, our pilot "drifted" the plane over a couple of unsuspecting moose, while we were on our way to Canada for some fishing.